Christmas last orders -
Fuel 20th Dec and Fires 10th Dec
LOTUS
ETHANOL FIREPLACE
Commerce Technology®
COMMERCE TECHNOLOGY®
Planika developed a uniquely safe Commerce Technology®, which is based on highly absorbent ceramic fibres. The cluster of fibres always keeps the fuel inside the burner, even if you accidentally tilt the fireplace.
CLEAN FIRE WITHOUT SMOKE
Lotus is powered by bioethanol, a renewable and carbon-neutral fuel made from biomass. It provides rich flame and clean burning without any smoke.
EFFICIENT FLAME
The burner holds up to 1.5 litres of bioethanol that gives you even 3.5 hours of rich and golden flame.
GLASS CYLINDER
This durable glass cylinder protects the flame from any air blows, always making it stable.
PORTABLE DESIGN
Lotus is a fully portable fireplace without any hard connections. It takes little space so you can freely arrange it in any space.
UNIQUE DESIGN AND TOP BUILD QUALITY
With its uniquely designed base, Lotus makes an elegant
and eye-catching decoration anywhere you place it. It is built to the highest quality standards. Made of best materials and components, it is always safe and reliable.
Lotus
(Commerce Technology®)
Fuel tank capacity - 1.5 L
Maximum burn time - 3.5 hours
Maximum heat output - 2.5 kW
Minimum room cubature - 25 m3
Weight - 4.5 kg
Fuel type - bioethanol 95 - 96,6%
Flue - not required
Air change rate - 1 space volume per hour (indoor)
Finish – black powder coating
Material – steel, glass
Application – for indoor and outdoor use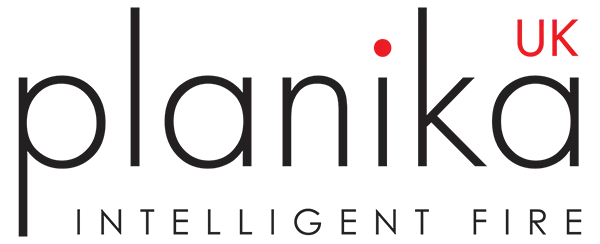 Planika is a company that specialises in designing and manufacturing advanced bioethanol fireplaces and related products. Based in Poland, the company has been operating since 2008 and has become known for its innovative and eco-friendly fireplace solutions.Planika offers a wide range of bioethanol fireplaces, including wall-mounted units, freestanding models, and tabletop designs. They also offer a range of outdoor fireplaces that are designed to withstand the elements and provide warmth and ambiance for outdoor spaces.One of the unique features of Planika's bioethanol fireplaces is their use of advanced technologies, such as the patented fuel system, which ensures a clean and efficient burn. They also offer a range of customisation options, such as different flame heights and patterns, to suit the needs and preferences of different customers.Planika's fireplaces are designed with safety in mind, with features such as automatic shut-off systems and safety sensors that monitor the temperature and fuel levels. They are also designed to be easy to install and maintain, with most models requiring no chimney or flue.In addition to their bioethanol fireplaces, Planika also offers a range of related products, such as fire pits, bioethanol fuel, and accessories such as remote controls and safety screens.Overall, Planika is a leading company in the bioethanol fireplace market, known for its innovative designs, advanced technologies, and commitment to safety and sustainability. Their products are popular among customers who want an eco-friendly and stylish heating solution for their home or outdoor space.